613f712dcb8853114f7850a6-regular
Pet Dog Pumpkin Halloween Costume
😂Get your pooch ready for Halloween! This hilarious eye-catching dog costume will make your dog stand out this Halloween. Watch your doggy pal strut around getting busy for Halloween delivering pumpkins. The pet dog carrying pumpkin cosplay costume is suitable for various small, medium, and large dogs.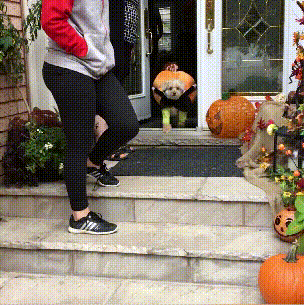 Soft fabric, our clothes are very comfortable to wear that will also keep your pets warm during the cold winter nights. It is perfect for everyday wear, weekend parties, Halloween, Christmas, birthdays, weddings, parades, photoshoot, and more. 
This Dog Pumpkin Halloween Costume is the most adorable costume that you can get for your dog! It is great for Halloween and other special festivals. 
Features:
DESIGN: this pet dogs carrying pumpkin cosplay costume for Various small medium-large dogs. cute and funny, clothes bust with Velcro can be adjusted size
TOP QUALITY: Pet-friendly, exquisite detail, Velvet material, handmade quality, Super Soft 100% polyester fluffy polyester fiberfill keeps your pets warm in winter. Durable, lovable, and easy to clean. Machine washable is allowable.
APPLICATION: Pet funny dress Perfect for daily wear, weekend parties, Halloween, Christmas, parades, photo shoot or play date
SIZE: S back length 11.8inch, M back length 13.8inch, L back length 15.7inch, XL back length 15.7inch, Unique saddle arch design more fitting anatomical features of dogs together, make your dog more comfortable
AFTER-SALES SERVICE! --- If you ever have issues with your dog clothes, simply contact us, and we'll rush a replacement to you FREE FOR LIFE!
💀WHAT YOU GET
1 x Pet Dog Pumpkin Halloween Costume
🎃Customers are our priority
We do our best to ensure customers get exactly what they paid for. We are a small business and value satisfaction above all else.


Pet Dog Pumpkin Halloween Costume